Posted:
October 25th, 2011 |
Author:
Chérie
|
Filed under:
Uncategorized
|
2 Comments »
Saturday, October 8th had been a long day. Keith's and my nearly 13 hours worth of adventures throughout Connecticut, Massachusetts and Vermont were coming to an end. My Honey's trusty old 1981 Honda motorcycle hummed us homeward on Route 91 while an exceptionally bright 3/4's full moon kept the late night's sky in twilight.
Again and again, silhouettes of blue mountains hugged patches of fog trapped in valleys as we sped back home. The moon's light was so brilliantly bright, it illuminated everything it touched with an opalescence that seemed to scream — Joy! Favor! Joy!
Indeed, our entire day had been filled with joys and favors. I gave Keith an extra hug, felt the warmth of his body and heard, ""fortuitous favors." As the night's cold air whipped around us on the motorcycle, I reflected upon the timing of each good thing, each fortuitous favor, that had happened to us that day, and to others. It was like watching a 13 hour span of Universal kinetic domino art in action.
Each event that had taken place that day was like an intrinsically timed falling domino that the Great Creator tipped over to perpetuate the kinetic energy and timing for the next event in each person's day. If any one event hadn't of taken place exactly when they did, none of the others would have taken place.

My usual morning demeanor.
The first domino. My Honey, Keith, chose to start off our Saturday dangerously … he woke me up, early no less too! He some how managed to "inspire" me to be fed, dressed, packed and sitting on the back of the motorcycle by 9:00 a.m. — minus any usual early morning threats of malice or harm from me being directed his way.
Unbeknownst to me, Keith was on a mission … I thought because I had bounced back so well from the nipple reconstruction surgery just three days prior, he wanted to make sure we got to see the fall foliage in Vermont. Later on I found out there was much more to his mission.
The second domino. We had stopped at a gas station for a quick pit stop and were just about to leave. An elderly woman, obviously very upset, approached us and asked us for directions. We gave her the right information and then stayed with her for another 10 minutes or so, until we saw that she had gotten calmed down as was well on her way.
The third domino. We were finally in Vermont. We made another pit stop, began to head up a major scenic route when Keith slowed down and turned us back around. I asked, "Why are we turning around?" [insert drum roll here] He answered, "I'm going to ask for directions." [insert gasp here]
Yes! There DOES exist a man who is confident enough in his machismo to ask for directions! We had gone past a major junction and Keith wasn't sure of which way was the right way to go. So, he turned us around and we shot past the gas station where we had just made our pit stop at, backtracking us a mile or so further down the road. I asked him why hadn't we stop there. He just shrugged and said, "The other gas station just feels right." As we made our way to the other gas station I commented, "It would be so nice to get to ride with another couple some time. Buddy up." He silently nodded yes.
A few minutes later we were at the "feels right" gas station. Keith asked a woman gassing up her car if she knew about the route splits. She didn't know. At the same time, Keith and I turned and looked over our right shoulders. There sat a young couple on a motorcycle, just hanging. Keith rolled the bike over to them, asked about the route splits. Turns out the guy grew up in Vermont, he and his girlfriend now live in Massachusetts, but were taking a 'leaf peep'n' ride on his way to visit his mom who still lives in Vermont. He asked if we'd like to ride along with them until our paths went in opposite directions.
As we accepted his invitation he commented on how close we came to missing joining up with them. Literally by a few minutes. Are you beginning to see the Universal kinetic domino art starting to take place too?
[insert head nod here]
The fourth domino. It had been a few hours since we had parted ways with the young couple. Keith and I were getting hungry. Many years ago, Keith worked and lived in Killington, Vermont. He had wanted to see if this one little restaurant was still open in Pittsfield. But before we got to that restaurant we saw a little town bazaar going on. The smell of food cooking on a grill and the sight of tables set up with crafts and goods got us to pull in.
As we began heading our way over to the food something caught Keith's eye … two, in mint condition, white HJC 3/4 faced, sliding face-shield motorcycle helmets for sale. He asked one of the two ladies at that booth, "How much?" She smiled and answered, "Five bucks, gloves included."
Keith laughed and asked, "No, really. How much?" She looked mildly miffed that he was asking her to repeat herself, "Five bucks, gloves included. Each helmet, five bucks." Keith's eyes twinkled with a "this is too good to be true look." He plunked the helmet on his head, it was a perfect fit!
For those of you who don't ride motorcycles, you need to know that the odds of finding a motorcycle helmet that fits you right off the bat are about as rare as witnessing a microphone or camera being shoved in front of Rosie O'Donnell's face and NOT hearing her run her mouth. Yeah, it's THAT rare!
Keith told the woman, "Sold!" She looked at me, pointed to the other helmet and said, "These were my husband's and my helmets. That one was mine. Try it on." I did, it fit perfectly!
I looked at Keith in shock, he shelled out another $5 as the woman insisted we take the leather gloves too. She went on to tell us that a friend of hers had been trying to get her husband to get into motorcycling, and because the helmets were so cheap, she was going to buy them if nobody else did that day. The other lady at the booth said, "Too bad for her now," and laughed.
While packing our old helmets into the motorcycle's side bags, Keith informed me that our new helmets were easily worth $90-$100+ brand new. And, that he was expecting the woman to sell them for $50 a piece. He never expected her to say $5 each! And we were both beyond shocked that they fit us perfectly.
The fifth domino. Once again we were making our way towards the food stand. Keith happened to look down on the ground, and there next to a car, was an iPhone in the grass. He picked it up. Neither of us had a clue as how to turn it on, let alone see if we could figure out who it belonged to.
The sixth domino. No sooner after I said, "We need to find some teenagers, they'd know how to figure out who this belongs to," when along came two young teenage girls. They found the owner's Facebook account, pulled up his profile picture and name. We now knew exactly who to look and ask for. We wandered around the little bazaar until we found the iPod's owner. We called out his name, he looked up at us with a "how do you know who I am?" look. Keith handed him the iPod, told him how we found it by a car on the ground.
Needless to say he was very thankful we had not only found it, but that we had bothered to figure out who it belonged to and had returned it.

My new salad tongs.
We finally got something to eat. Our food money helped support the local fire department that got hit hard by hurricane Irene. We looked around a bit and went back to thank the ladies who sold us the helmets again. While Keith talked with them I spotted some very unusual wooden salad tongs. Each tong was carved out of one solid piece of black wood, like two thin strips twisting around each other, reconnecting at the top into solid wood again and then a small triangle cut out at the top. As I ran my fingers over the smooth handcrafted wood the woman told me about them. Years ago her brother-in-law used to work down in Somalia and he would bring back all kinds of different handcrafted items from there. Someone had made these tongs with great care and pride.
I was delightfully surprised when she said she only wanted $1 for them. They match my black wooden salad bowl beautifully.
As I handed over the dollar she casually commented, "Oh yeah, and your timing on the helmets couldn't have been more perfect, for you that is. My friend who wanted them came by just minutes after you two bought them. She wasn't too happy that she'd just missed nabbing them." We assured her that the helmets would enjoy many, many more fun miles to come.
With full bellies and new helmets, we continued on our journey. As we got further north we began to see more and more of hurricane Irene's aftermath.
Anywhere that water could flow, there was the telltale signs of devastation. And not the type of flooding that comes to mind when you think of hurricane Katrina, standing flood waters. Irene's water's were swift and violent. Massive amounts of water, roaring through any pathway it could find — ripping apart anything in it's way. River banks, sides of roads, houses and bridge after bridge — gone.
A lot of the roadside and bridges we saw were well on their way to being nearly rebuilt on the road we were traveling. But there were still entire houses in ruins — like a giant toddler had tossed them in haste to go play with another toy.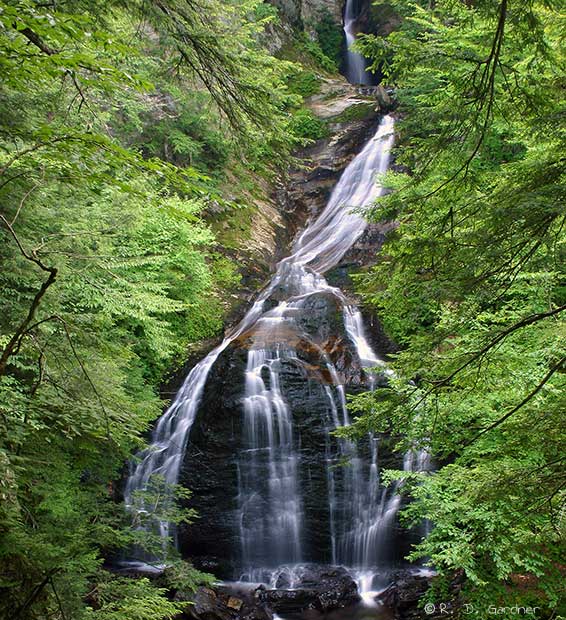 The seventh domino. We just had to stop and enjoy the beauty of Moss Glen Falls. It's right there, smack on the side of the road. It felt good to breath in moist, crisp air. Everyone around us spoke in a hushed tone, tranquil reverence.
It was starting to get late in the day, we wanted to hang out at the falls longer, but knew we needed to get going.
As we were gearing up to leave a fellow biker and his wife commented on Keith's old Honda. The old gal is often the impetus for conversations among bikers. That model Honda was a lot of biker's first bike.
When the couple found out we were northbound they told of us a free fundraising music festival up the road at an old farm. "Donate whatever you want. Get some free food and music. Can't go wrong with that!"
The last couple of dominos. Sure enough, a few miles up the road we saw a bunch of cars parked and heard music coming from an old farm house. We turned into "Inn At Lareau Farm" and were instantly enchanted. The closer we got to the old farm house, the faster I fell in love with the place.

Where we ate and hung out with the locals.
We walked up to a table with a big glass jar on it beside an open barn and asked what was up. A freshly scrubbed face and proud smile told us the story behind the music festival. The woman, Kelly, told us that she and her new husband were going to throw a party here at the inn the very day that Irene blew through. So, instead of rescheduling a private party, they decided to turn it into a free party to help benefit neighbors that were still in distress from the hurricane. Donate $20 and you got a fresh lobster dinner. Donate as little or as much as you wanted and you were welcome to eat any of the rest of the food there. And there was tons of wonderful food there … especially the pizza!

The hand-built, wood fired pizza oven.
Now, you need to know that Keith and I have had a long running joke about the pizza in Vermont — it's been horrid. I experienced this phenomenon in the short spell that I lived in Vermont about eight years ago. Keith endured it the couple of years that he lived there over a decade ago. We have since both tried to eat pizza there on a few our road trips over the past couple of years — it was always the same, horrid — until we tasted "Home of American Flatbread" pizza on October 8th, 2011.
We milled around the property. On the back porch various musicians played acoustic music. Children and adults played frisbee on a freshly mowed hayfield. A full-sized couch was brought out for adults to chat in leisure on. Some serious games of ping-pong where going on at the south end of the barn. Toddlers were dancing on the bandstand in the barn and the wood-fired adobe oven was slowly blooming to full heat for baking pizzas in.
It had already been a long day of riding, more than I had anticipated. I was tired. But as I sat there in the barn with Keith the richness of the day's beauty, the joyful favors that were exchanged along our journey and the peaceful hum of life being celebrated brought me to a tranquil pause.
Keith saw me soaking it all in. He leaned in towards me and with his sweet Bostonian accent said, "You have been through so much this past year, with the breast cancer and all. I wanted to give you a beautiful day. A day away from anything to do with it. I just wanted to gift you a beautiful day."
My eyes welled up as I smiled and took his face in my hands and said, "You did a good job, Mistaaah. You id a good job." Yes, he got a sentimental thank you kiss.
Then we started to see people passing by us with plates of pizza. We asked each other if we should give Vermont one last chance on it's pizza. It smelled so good, we decided to go for it.
I got Keith some slices of sausage pizza and I got some slices of a fresh basil pesto-drizzled pizza. It was fabtabulous! The crust was just right, the sauce divine, the amount of cheese just right — it was heaven in a slice! Keith even tried a bite of my pesto pizza and went back for some of his own.
We ate with a local, who we'll call Dave (because we never did find out his name), that had plunked himself down at our table. He started munching away on his lobster and talking with us like he hadn't seen us since a couple of weeks ago and wanted to catch up on things. He and Keith started exchanging motorcycle warrior stories ("that one trip was so cold, try going 70 mph in the rain, man …") — I just sat back and listened.
Then Dave said that a few weekends ago he had gone on a breast cancer fund raising ride in honor of several female friends and family members who have fought breast cancer. I smiled and told him, "Thank you!" He grinned at me and asked, "You've had breast cancer?" I nodded yes. Then he asked, "I take it you're a survivor?" I slapped the table and emphatically said, "Dang straight I am!"
Dave laughed and said, "Ah, a warrior I see." I again nodded yes. Then something really interesting happened. Keith got his gift, his specific domino for the day. He and Dave sat back and discussed breast cancer — man to man.
Keith has been so reaffirming of my femininity and womanliness throughout this whole cancer journey. I have had my girlfriends for support. Who has he had? So, I just sat back and listened. I heard two macho men speak of feeling somewhat helpless against a disease they couldn't fight and protect their women from. I heard them try and see it through a woman's eyes.
As Dave got up to leave he shared how he had borrowed a bright pink scarf from a female friend for the breast cancer ride. Dave had visions of looking like Snoopy on his doghouse, fighting the Red Barron — only to have a female friend tell him he didn't look like Snoopy at all. That the long scarf didn't flap in the wind, it just laid there "looking gay."
With that, Dave left with a laugh, the same way he appeared to us.
I poked my head into the Inn part of the old house. It was built back in 1794, and it wasn't just built to be a utilitarian farm house, it was also built to entertain in. This fact was confirmed when I spoke on the phone with the Inn keeper, Elizabeth. I called to ask permission to use their photos in this blog article.

Inn at Lareau Farm in the winter.
After Keith and I bundled up for the chilly night ride home, I looked back at the old farm house and knew that I wanted to come back, that I had to come back again some day. I would so love to spend a winter weekend there … bask in the beauty that's literally been enjoyed at that particular house for a couple of hundred years. I hope I get to hear the echos of laughter and feel the smiles of ghosts again too.
So, see … what might look like a string of coincidences to one person, looks like a beautiful run of Universal kinetic domino art set into motion by something larger than one singular mind to another.
If we hadn't of stopped to help the elderly lady so early in our day, if Keith hadn't of turned back around to ask for directions we wouldn't have met up with the couple we leisurely rode with; to time up perfectly to buy two helmets for $10, return a lost Ipod; meet up with the couple at the waterfall who told us about the music festival — and then enjoyed the jewel of our day, our time at Inn at Lareau Farm and the locals of Waitsfield … nor would Vermont's pizza status finally have been changed from horrid to heavenly!

---